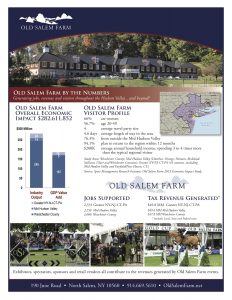 August 15, 2016 – North Salem, NY –  A new economic impact study by the Sport Management Research Institute concluded that Old Salem Farm contributed more than $282 million of economic impact to the local area and Westchester County in 2015. Old Salem Farm is Westchester County's premier equestrian facility and one of the most renowned equestrian competition venues in North America, hosting the American Gold Cup, part of the Longines FEI World Cup™ North American League, and the Old Salem Farm Spring Horse Shows.
"Old Salem Farm has worked very hard to make our venue one of the best in North America, and we are proud to be able to support and impact Westchester County and the local area," said Old Salem Farm Manager Alan Bietsch.
"Thanks to their hard work, Old Salem Farm continues to be source of pride for Westchester County," said Westchester County Executive Robert P. Astorino. "With prestigious events like the American Gold Cup, Old Salem Farm provides a great economic boost to Westchester, while allowing our visitors and residents to enjoy the natural beauty of the county."
With a full boarding and training facility, three weeks of top level show jumping, and a full schedule of national-level competitions throughout the year, Old Salem Farm staged a total of 70 event days in 2015.
From event day estimates provided, the total economic impact (human and horse related) in Westchester County was more than $245 million. The total economic impact to the Mid-Hudson Regional Metropolitan Statistical Area (Dutchess County, Orange County, Putnam County, Rockland County, Sullivan County, Ulster County, Westchester County) was more than $259 million.
When looking at the greater Combined Statistical Area in New York, New Jersey, Connecticut, and Pennsylvania with 33 counties, the total economic impact increases to more than $282 million.
Out-of-town visitors attending the events at Old Salem Farm had a "more favorable impression" of the region as a result of attending an event, while 94.1% of attendees said they planned to return to the region in the next 12 months.
Employment impacts include 2,006 jobs in Westchester County, 2,258 jobs in the Mid-Hudson region, and 2,331 jobs in the Greater New York City area. Impacts on labor income (wages, salaries, employee benefits, proprietor income) in the broader region were $126 million.
Tax impacts in Mid-Hudson region were $22.0 million in state/local tax revenues, and in the broader region federal tax impacts were $29.0 million.
Old Salem Farm is proud to be a part of Westchester County and bring visitors to the great state of New York, along with providing exciting and entertaining equestrian events.