NORTH SALEM, N.Y., November 30, 2021 — Scott Hakim, owner of Old Salem Farm in North Salem, New York, one of the most prestigious equestrian horse show venues in the country, announced that McLain Ward, as co-chair of the Spring Horse Shows, is collaborating with the farm to put together the 2022 horse show circuit schedule for a series of horse shows to take place on the showgrounds, as well as the enhancement of the show rings and grounds through a new all-purpose Grand Prix arena, and landscaping throughout. 
"McLain Ward — who has spent countless days riding in our shows over the past few decades, and lives just a stone's throw away — and I have been discussing this collaboration for a few years," said Hakim. "Together, we want to build the finest show facility in the country and offer new classes and options for riders in the coming years. We have already begun the renovation of the Grand Prix ring and surrounding landscaping, and we look forward to welcoming to the facility a new group of riders over the coming months." 
For his role, Olympian McLain Ward is thrilled to have input in all aspects of the new showgrounds and horse show program. "I have always ridden at the Old Salem Farm horse shows," said Ward, "and to have the opportunity to provide direction and input in what happens next as we challenge all levels of riders in a great program of competition is a thrill. We broke ground on the new ring a week ago, and I can't wait to compete in it in the spring. In the meantime, we have much work to do to plan classes and facility changes to make this one of the finest equestrian venues in the country."
The project kicked off on Saturday, November 20, with a groundbreaking ceremony attended by the Old Salem Farm owners, Mr. & Mrs. Kamran Hakim and Scott Hakim; Olympian and Old Salem Farm Horse Show co-chairman McLain Ward; and representatives of our community to celebrate this new venture for the farm. 
Have a listen to our podcast featuring Scott Hakim and McLain Ward, in which they discuss their history, their shared interest to bring Old Salem Farm horse shows to the forefront of the year's show calendar for top riders, and the exciting Grand Ring arena renovations.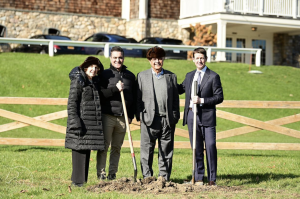 Mr. & Mrs. Kamran Hakim, Scott Hakim, and McLain Ward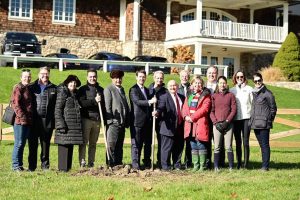 North Salem Bridle Trails Association Co-president Katherine Daniels; New York State Senator Peter Harckham; Old Salem Farm owners Mr. & Mrs. Kamran Hakim and Scott Hakim; Olympian & Old Salem Farm Horse Shows Consultant McLain Ward; Co-founder of FootingFirst Lawton Adams; New York State Assemblyman Chris Burdick; North Salem Deputy Supervisor Peter Kamenstein; Co-founder of FootingFirst Karen Leeming; North Salem Supervisor Warren Lucas; Old Salem Farm trainer Alice Debany-Clero; North Salem Bridle Trails Association Co-president Charlotte Harris; Old Salem Farm Director of Marketing and Sponsorship Vandy Lipman
Photo Credit: SEL Photography
####
Interviews and additional images are available upon request. If you would like more information about this topic, please contact Christine Merser at cmerser@blueshoe.net.