By Summer Grace / EQ Media
North Salem, NY— Sept. 9, 2020 —  Hunter competition at the 2020 Old Salem Farm Fall Series Horse Show kicked off Wednesday morning with a strong performance by Lainie Wimberly and Brigadoon Show Stables Inc.'s Corto Des Dames as the pair secured the first champion of the circuit in the Performance Hunters 3'3". With the safety of exhibitors as top priority, Old Salem farm has put COVID-19 protocols in place that include wearing masks when unmounted and social distancing. Protocols in place, athletes returned to the iconic venue for the first of three scheduled weeks of hunter and jumper competition. Jumper competitors flocked to the Grand Prix Field where Jeffery Welles took the victory in the $3,000 1.35m Open Jumper Stake aboard Calais.
Wimberly and the 12-year-old Belgian Warmblood gelding (Orson Des Hayettes x Obonny Des Hayettes) came out victorious in two of their four classes while earning second in another to produce the points needed for the championship title.
"It feels so good to be back at a horse show," Wimberly said. "The home time training is great, but at the same time, there is the desire to get back out into the show ring and see if you've met your goal!"
Wimberly's partner was not always a hunter ring ride; after purchasing the gelding from McLain Ward, she originally competed him in the jumper ring until an unfortunate misstep into a post hole put his career on hold.
"We took him out of work for about two years after the incident and did stem cell treatment with him," she explained. "Once he was back and working, I thought to myself, 'Let me just try him in the hunter ring,' because he was such a good mover and produces great jumps."
The move was a successful one for the pair as Wimberly added he has earned a championship almost every time in the hunter ring since.
After being awarded the second place ribbon in two out of three classes and third in another, Lisa Rex and the 9-year-old Oldenburg gelding (Conthargos x Fonata) Contargo earned the Reserve Champion honors in the division.
Jeffery Welles and Calais Race to Victory in $3,000 1.35m Open Jumper 
The $3,000 1.35m Open Jumper stake was not only the biggest purse available in the Grand Prix Field but was also the final class to take place on the turf during opening day. A total of 17 horse-and-rider combinations contested Paul Jewell's track but none could best the speed and efficiency of Jeffery Welles. He and Triton Ventures Farms Inc.'s 13-year-old KWPN gelding (Ultimo x Venus) Calais, bested Keirstin Johnsen and Lynne Schwartz' Capri after crossing the final timers in 66.273.
"Calais was definitely fresh today," Welles said. "He was bucking around and dragging me a bit but he jumped great and felt good on the grass.
"He really enjoys jumping on the grass and the course was nice as well," he continued. "We have been showing mostly locally because of COVID-19 so it is nice to have this venue back up and running."
Johnsen and Schwartz' 13-year-old Belgian Warmblood gelding (Quaprice Z x Nelrite) fell just short of Welles' blazing time after finishing in 67.066 seconds. United States representative Matthias Tromp rounded out the top three leaderboard with the Beyaert Farm Inc.'s eight-year-old Belgian Warmblood mare (Cardento x Topas) Manhattan.
Hunter and jumper competition will continue tomorrow with the feature being the $3,000 1.40m Open Jumper. Highlights will also include the five and six-year-old Young Jumpers as well as more hunter action.  Competition will continue over three consecutive weeks from September 8-13, 15-19, and 23-27. 
Final Results: $3,000 Open Jumper 1.35m
1 CALIAS: 2007 KWPN gelding by Ultimo x Venus
JEFFERY WELLES, Triton Ventures Farms Inc.: 0/66.273

2 CAPRI: 2007 Belgian Warmblood gelding by Quaprice Z x Nelrite
KEIRSTIN JOHNSEN, Lynne Schwartz: 0/67.066
3 MANHATTAN: 2012 Belgian Warmblood mare by Cardento x Topas
MATTHIAS TROMP, Beyaert Farm Inc: 0/67.625
4 ALL GOLD DES ISLES: 2010 Selle Francais gelding by Nashville III x On My Heart Des Isles
KEVIN MEALIFF, SRB Stables: 0/68.178
5 JET RUN: 2010 Oldenburg gelding by Chacco Blue x Peisha
KAREN POLLE, Karen Polle: 0/69.216
6 MY JEWEL'S MAGIC TOUCH: 2012 Belgian Warmblood gelding by Stakkato x A- Jewels Touch
RODRIGO PESSOA, Jewel Court Stud USA LLC: 0/71.284
7 ISAAC 22: 2008 Belgian Warmblood gelding by Nonstop x Wintina Deux
VICTORIA KETCHUM, Copperline Farm LLC: 0/75.454
8 CLICK FOR QUALITY: 2009 Swedish Warmblood gelding by Click And Cash x Quesada
TIFFANY MARR, Hidden Brook Farm: 0/75.977
9 MAGNUS ORFEO: 2005 Silla Argentino gelding by Magnus Orestes x Magnus Colomba
MARY MANFREDI, Mary Manfredi: 0/76.198
10 MAESTRO VAN DE VOLKAERT: 2012 Belgian Warmblood gelding by I'm Special De Muze x Raisagrafin
VICTORIA KETCHUM, Copperline Farm LLC: 78.074
11 VERTIGO DELORME: 2009 Westfale stallion by Chacco Blue x Faretana
PENNY BRENNAN, Penny Brennan: 0/79.316
12 CHARLY GLB
CHELSEA MOSS, Pablo Mejia: 4/77.681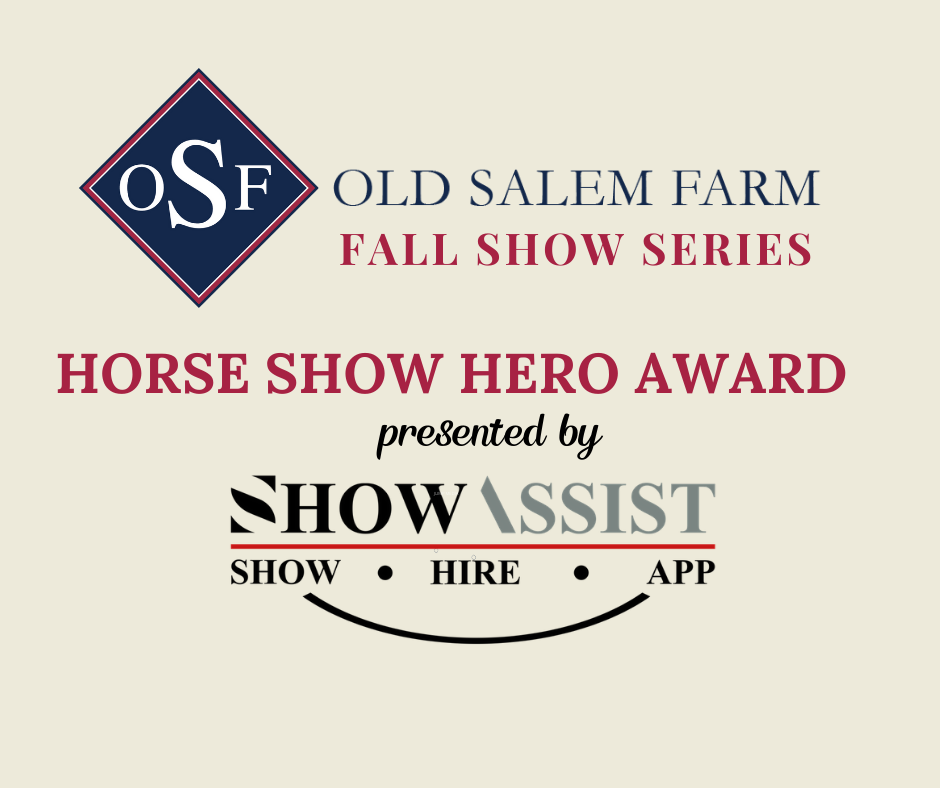 Nominate Your Horse Show Hero
Click here to nominate your Horse Show Hero for an award that honors your most valued groom, stall cleaner, body clipper, braider, bodyworker, night watcher or other support staff. The lucky winner will receive a $500 VISA gift card. The Horse Show Hero award, presented by ShowAssist, will be presented before the start of the $75,000 Old Salem Farm Grand Prix, presented by The Kincade Group, on Sunday, Sept. 13.