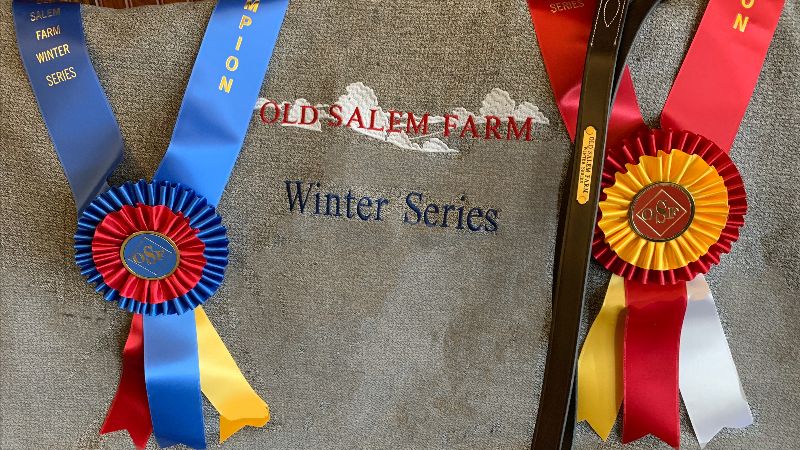 NORTH SALEM, N.Y. – April. 23, 2020 – Old Salem Farm, Westchester County's iconic equestrian venue, hosted a well-attended winter series that included Old Salem Farm January I, II and II, February I, II and II and March I. The series proved to be a high-point of the year for area competitors. Though cut short due to the coronavirus (COVID-19) and for the safety of all, the series proved to be a high-point of the year for area competitors. Since no series championship presentation could be held, Old Salem Farm recognizes the winners and thanks the competitors, owners, trainers and all that participated.
Many thanks to Dover Saddlery, who sponsored the series and graciously provided coolers for the champions and leather lead shanks for the reserve champions.
"It is exciting to work with Old Salem Farm, an equestrian center steeped in tradition, throughout this special winter show series. The Dover Saddlery Ridgefield, Connecticut store is located close by and supports competitors and show-goers with anything they may need for horse and rider during the competition. We understand the commitment and time that riders put into their horses and training and we are enthusiastic about doing our part to support a high-quality experience."

– Whitney Keeley, director of corporate communications at Dover Saddlery
Old Salem Farm clients demonstrated their skills and earned accolades during the winter season under the leadership of trainer Jessica Connor while head trainer Christian Coyle led the Old Salem Farm contingent in Wellington.
Esmerelda with owner and rider Pilar Fernandez (Greenwich, Connecticut) competed in the Large Children's Pony division to the series championship. The pair also earned the series championship at Old Salem Farm Fall.
"Esmerelda started in the 2-foot, then we moved her up to the Large Children's Ponies, at the fall show at Old Salem outside, and she got an 87 her first round," Connor said. "She (Fernandez) went away for a few weeks during the winter series. She was worried that she wasn't going to get the ribbon again, but she did!"
Modigliani (Kasimir x Konigsfee III), a bay Trakehner gelding, owned and ridden by Alexandria Stewart, earned the series championship of the Adult Amateur Hunter division. Modigliani and Stewart, from Bedford Corners, New York, competed in the 36-and-over section and won seven of their over-fences trips and had two victories under saddle with additional top -three placings to clinch the division. Stewart trains with Keirstin Johnsen of North Salem, New York. Hippy Blue (Zirocco Blue x Hippy), ridden by Sarah Mankoff (Brooklyn, New York) and owned by Cory Whittier, who competed in the 18-35 section, earned the reserve championship.
Emily Post, ridden by Shayna Kupersmith and owned by Amanda Wise, nabbed the championship of both the Modified Hunter and the Low Hunter 2'6" Divisions. Kupersmith, from New Rochelle, New York, made it a three-peat earning the championship aboard the Hanoverian mare of the Modified Equitation Division. Kupersmith trains with Scott and Liz Tarter.
Showtime (C. Quito x Capri), ridden by Lindsay Juge (Greenwich, Connecticut) and owned by Starbuck Equestrian, took the reserve championship of the Modified Hunter division. Keirstin Johnsen piloted Cordova (Corlensky G x Grenadille), owned by Onera Media Inc., to the reserve championship of the Low Hunter 2'6" division. Ian Gaudio (Redding, Connecticut), aboard Alexandria Wooters' Gran Mercury, was series reserve champion of the Modified Equitation division.
In the Low Hunter 3' division, Quebec, a gray Holsteiner gelding (Quo Vados I x Kaprice III) owned by Gabrielle Denby and ridden by Keirstin Johnsen won four classes over fences to earn the series championship.
"At Old Salem Farm, we are very proud of Quebec, owned by Gabrielle Denby," said Christian Coyle, head trainer at Old Salem Farm. "He was brought to us last year and while I was in Florida, I asked Keirstin to take over the ride for me at the Old Salem Farm winter shows. She did a fantastic job with him. He is a wonderful horse with a bright future."
Heart's Delight, a bay Warmblood gelding owned and ridden by Kimberly Witherspoon (North Salem, New York), earned the reserve championship.
For the jumper divisions, Old Salem Farm offered an overall winter series championship and reserve championship across the divisions. Justify (Toulon x Bellrose-C), a gray Belgian Warmblood gelding owned by Cheryl Scott and ridden by Kelly K. Stevens, earned the tricolor and championship cooler. Stevens from Brooklyn, New York, competed Justify in the Jumper .80m and .90m divisions and the Low Amateur Jumper division.
The series reserve championship was a five-way tie with Nina Shilling (Patterson, New York), and Coralie (Amaretto D'Arco x C'Est Croru), owned by Old Salem Farms Acquisition Corporation, Illuminati SSE (Christian x Urista), owned and ridden by Tiffany Avon (Ridgefield, Connecticut), My Casall (Cassini II x Viola VA) owned by Jill Aureliano and ridden by Alexa Aureliano both of Old Brookfield, New York. Rio's Latte (Caberdino x Rio's Opera House) ridden by Robert Rose from Westport, Connecticut and owned by Starbuck Equestrian and Seattle Prince (Seattle Sleet x Itsaprincess), a Thoroughbred gelding owned and ridden by Jessica Fonte from Woodbury, Connecticut all earning the honors.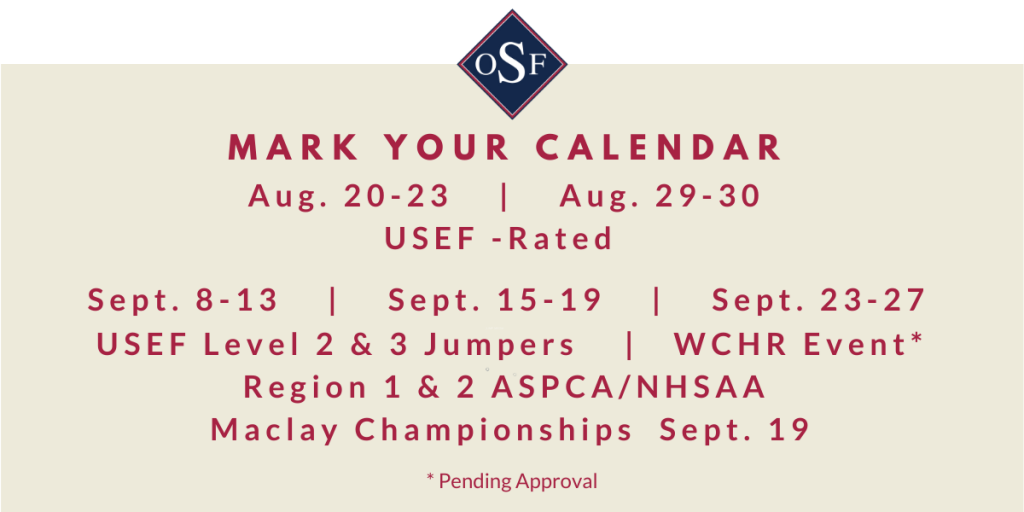 Mark your calendars for three weeks of USEF-rated Level 2 and 3 competitions and a week of WCHR divisions (Sept. 8-13, pending approval). Show dates: Sept. 8-13, 15-19 and 23-27. The Region 1 and 2 ASPCA NHSAA Maclay Championships will be held Sept. 19. More information about these shows will be available in the coming weeks. Old Salem Farm will proceed to plan our summer horse shows with options for all levels. We will keep you informed and please check the Old Salem Farm website for updates.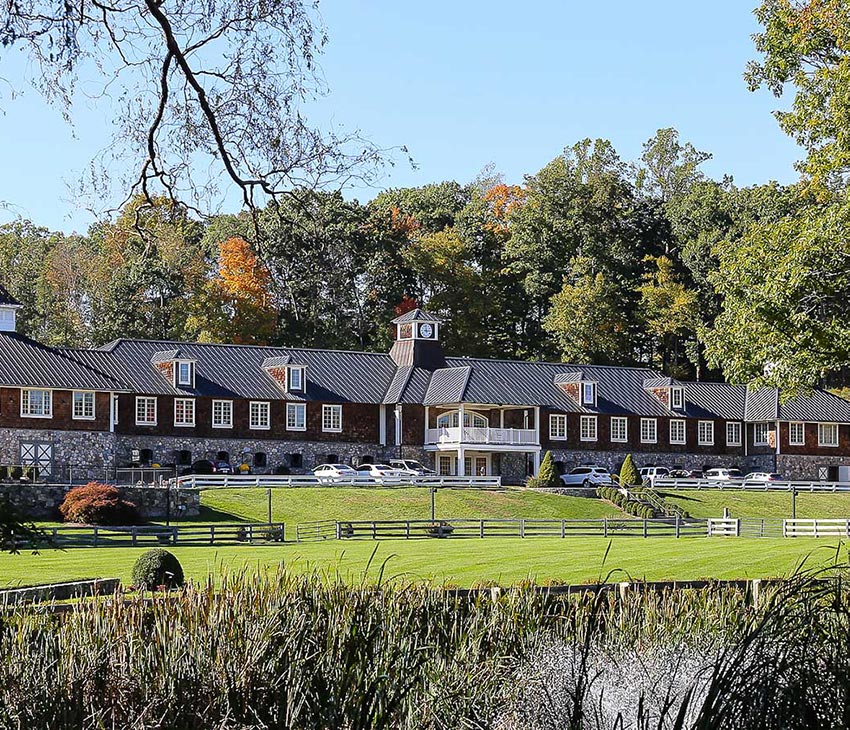 Located just one hour north of New York City, Old Salem Farm is known as one of the finest equestrian competition venues in North America. Its beautifully manicured grounds host the world's elite horses and athletes. Events on the property draw spectators from Westchester County and beyond who delight in strolling the grounds, shopping on boutique row, enjoying a range of culinary options while watching equestrian sport at its best.
Over the years, Old Salem Farm has hosted United States Olympic Team Selection Trials and Longines FEI World Cup™ qualifiers, FEI North American Youth Championships and ASPCA Maclay Regionals. Olympic stars such as Beezie Madden, McLain Ward, Leslie Burr-Howard, Daniel Bluman, Mario DesLauriers, Beat Mändli other world-class equestrians, have competed at Old Salem Farm throughout the years.
Old Salem Farm, a 120-acre boarding and training facility with 90 permanent stalls, is the ideal learning environment for area clients to achieve their goals.
For more information, visit OldSalemFarm.net